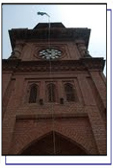 History:
University of the Punjab, Lahore, once the cradle of education in Punjab saw the inception of art within the campus known as the Department of Fine Arts in the pre partitions days. A dynamic and visionary Mrs. Molka Ahmad pioneered it and saw it growing. Within the span of almost 50 years it grew to a scale where its specializations earned an unrivaled reputation for turning young aspirants in to thorough professionals in almost every field of Art.

Latest addition to its specialization is the Department of Textile Design (pioneered by Mrs. Aiza Sultan) and the Department of Architecture. Motivated by the world demands in Textiles, the University College of art and Design took special interest in establishing the Textile Design Department and sanctioning maximum facilities to this internationally important field of design within the College campus.

In 2003, the College saw the initiation of a One year Professional Diploma in Textile Design, engaging talented and progressive academic faculty for teaching and building up the new discipline.

The Chancellar of Punjab University along with the Vice-Chnacellar, Punjab University promoted the College to start a Degree Program in Textile Design, seeing the Immense talent and the teaching expertise of he young faculty. Thus in October 2004, the Degree Program, "BFA Textile Design" commenced in addition to the already existing One year Diploma in Textile Design.

The Textile Department grew leaps and bounds, customizing the teaching space, providing latest facilities to the students and encouraging young professionals within the teaching faculty.

The newly proposed multistoried building of the University College of Art and Design is to start very soon which would provide a custom built textile design area according to its requirements such as computer labs, metal and wood work shops, printing and dyeing facilities, research and archival center along with a permanent display gallery for students and teacher's alike.

A comprehensive Syllabus for the Textile Design Department covers a wide range of aspects taking into account the global trends and to meet the technological requirements, at the same time preserving and reviving our rich Heritage of Textiles.

Objective:
• To groom the local aspiring talent in to professional textile designers ready to take up responsible creative jobs in local as well as the foreign textile industry.
• To build a strong image of Pakistani textiles using and re-employing the vast range of motifs and styles based on our rich textile heritage, using latest technology keeping in with the fast changing world trends in the textiles.
• To bridge the ever widening gap between the foreign textile creative segment and the indigenous untapped talent within Pakistan.
• To train and facilitate the students so that their creative designs reach the consumer market practically as well as making it a source of income for them.
• To help create equal opportunities for both genders and creating an atmosphere of freedom, progressive and profitable careers resulting in a strong economy of Pakistan. As 60% of the foreign exchange is brought in through textile export.